Motorcycle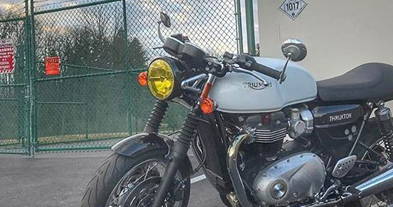 HEADLIGHT FILM COVERS
8 COLORS AVAILABLE
Give your bike's headlight or driving lights some customized appeal and protection from road wear too with our transparent, precut headlight film covers.
Choose from clear or a variety of colors or tints to give your motorcycle that look you want. Whether it's a yellow headlight for a cafe racer, invisible protection on an enduro or touring bike, or Tint on a super-bike. Lamin-x has a headlight film cover pre-cut for your bike.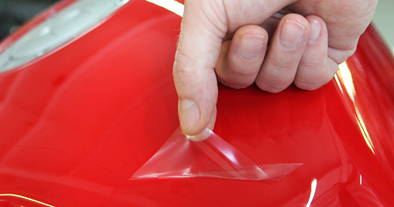 TANK GUARDS
STOPS SCRATCHES CAUSED BY CLOTHING OR GAS PUMPS
A heavily abused area on your motorcycle is the gas tank area. Your gas tank can become scratched and scuffed from the clothing you wear as you rub against in turns or from gas pump nozzles during refueling.
Use our Tank Guards film to keep your tank looking brand new with an invisible layer of protective film. Tank Guards are pre-cut for your year, make, and model bike. Order Today!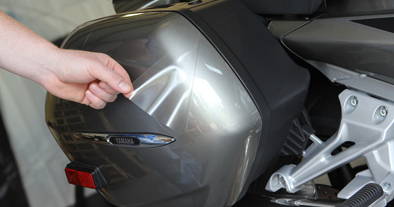 SIDE BAG GUARDS
PROTECT YOUR HARLEY'S SIDE BAGS
Harley hard side bag paint can become scratched and worn over time from getting on and off your motorcycle. You can easily protect the vulnerable paint on your side bag with our Side Bag Guards.
The same paint protection film that is used to protect millions of cars can now be used to protect your bike's bags too. Precut for your Harley.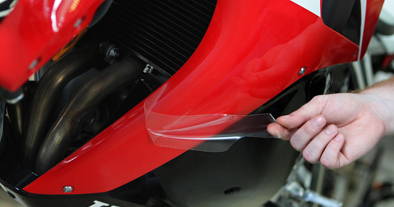 FULL PAINT PROTECTION
PROTECT YOUR MOTORCYCLE'S PAINT
You can use the same paint protection film that is used on millions of cars to protect nearly all painted areas of your motorcycle. This strong and invisible film will protect your motorcycle from normal road abuse.
You can prevent chipped, scratched, and scuffed paint with our Full Paint Protection kits for longer than you'll have the bike! Precut for nearly any make or model and includes installation tools and instructions for DIY installation. Order Today!